Web Applications
DJ's niche is sophisticated web programming that enables unique online interactions with users and data.

A web application is defined by it's interactions, and this is where DJ's shines: the digital interactions with users and data throughout input, processing and output. We develop highly extensible web-based applications that leverage technology, design, code, management information systems, and marketing to create practical, smart solutions with attention to detail. We combine interaction-based web applications with information-based websites to create hybrid web solutions that are seamless, intuitive and straightforward to end users.
We seldom say that is not possible. What is the purpose of your application? What is the best way to account for and implement the critical success factors? What will help focus users to do what you require? What will save more organizational expense? What will generate more organizational revenue? What will create a distinct competitive advantage that is difficult to replicate? Challenge our ingenuity to recommend a practical solution to an abstract problem or idea.
A DJ's Web App is:
User- and purpose-focused.
Intelligently designed.
Well development.
Fully compatible across devices and desktops.
Planned, designed, developed and managed with Management Information Systems and marketing directing the code.
Made to look and feel like native apps on mobile devices.
Built to scale with popularity.
Progressive.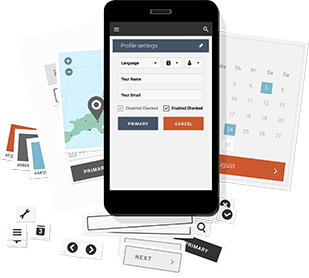 Progressive Web Apps
The web is the backbone of many applications. With an internet connection and a browser, users have access to an application, whether on a desktop, tablet, smartphone, or smart home device. However, what if an application requires access to more than the user's keyboard and mouse, such as using a camera or other device hardware in the code?
This is the realm of Progressive Web Apps (PWA's). PWA's are a new type of web application designed and developed to look, feel and behave like mobile or native device apps. This includes the ability to work offline (without an Internet connection); the ability to integrate with device software (such as a device notification system); the ability to launch like mobile apps (on the Home screen and without a browser frame); and the ability to use device hardware (like a device camera, etc.).
Originating at Google, PWA's are considered a part of the next wave "modern web". Google (Chrome and Android) has led the charge, with Mozilla (Firefox) being heavily involved. Microsoft (Edge) and Apple (Safari / IOS) have begun support. Currently, PWA's are deeply accessible on Chrome, Android, and Firefox, with Edge and Safari / IOS offering more basic accessibility (PWA's currently work well on Edge / Windows 10 and Safari / IOS, however, not fully integrated into the device's ecosystem and hardware). In the short term future, it is expected that PWA's will completely and universely replace native mobile apps as device manufacturers fully integrate the technology with their ecosystems and hardware.
With a single build across devices and platforms, PWA's can cost 10 times less than native mobile apps. PWA's are re-defining modern web development, and this re-defining brings DJ's back to it's roots, utilizing over 30 years of experience. DJ's designs and develops PWA's that look great, function well, communicate effectively and motivate action.
Portfolio examples and references are available upon request.
Have a project in mind?